It has become a long-running stereotype that LGBT+ people love musical theatre. While it's a pretty tired trope, the truth is that lots of LGBT+ people are big musical theatre fans! In general, the theatre industry has always been accepting of LGBT+ people, whether that's as actors, crews or creative teams. Theatre is well-known as a safe haven for LGBT+ people, and it's not hard to see why. 
Plays and musicals with LGBT+ themes and characters have boomed in the past ten years. So if you're looking to see your community represented on stage, there has never been a better time to do it. From gritty dramas to fun and fabulous musicals, whatever your theatre preferences are, there's sure to be something out there for you.
While compiling our list, we spoke to theatre blogger Mickey Jo Boucher, who told Age Times: "While LGBT+ characters and themes have been better represented on stage than in most other media for some time, there has been a disproportionately heavy focus on queer cisgender men and we are only now beginning to see truly meaningful representation of queer women with shows like Fun Home, The Prom and Halls the Musical.
"Recently, the London premiere of new musical, But I'm a Cheerleader, put lesbian characters centre stage in a very important story about the dangerous impact of conversion therapy - though the show is set in the 90s the dark shadow of this practice continues to linger.
"As we look to the future, I'm optimistic not only for more meaningful representation of everyone within the LGBT+ community onstage, including authentic casting of trans performers in trans roles, but stories that allow their LGBT+ characters to experience joy and euphoria after so many decades of anguished history, turbulent coming out stories and homophobia. It is completely inspiring and encouraging to consider how much young LGBT+ theatregoers might gain from seeing themselves represented onstage."
There is a lot to choose from when it comes to plays and musicals that tell LGBT+ stories or are popular in the LGBT+ community. So we've compiled our top ten plays and musicals for LGBT+ audiences to give you a place to start.
Kinky Boots
Kinky Boots has been a mainstay on Broadway and the West End since it premiered in 2012. It is based on the 2005 British film of the same name. Cyndi Lauper writes the music and lyrics, so fun is guaranteed. It follows the story of Charlie Price, who inherits a shoe factory from his father and subsequently partners up with a drag queen named Lola to save the failing business. 
After starting on New York's Broadway and in London's West End, it has been revived in major cities worldwide, including several large-scale tours. The Broadway production even rocketed Billy Porter (Pose, The Lonely Hearts Club) to superstardom at the start of his career and earned him his Tony Award. The Broadway version won a total of six Tony Awards in 2013, securing 12 nominations total. The soundtrack even won a Grammy in 2014. The West End version saw similar success, receiving three Laurence Olivier Awards out of six nominations. The track record speaks for itself. It's a favourite of critics and audiences alike and a definite must-see for any LGBT+ musical fans.
Angels in America
Fully titled Angela in America: A Gay Fantasia on National Themes, the two-part play is one of a few famed for depicting the AIDS crisis in the United States through the 1980s. Written by Tony Kushner, the play is split into two parts: Millenium Approaches and Perestroika. The story focuses on a gay couple living in New York, and it's written for eight actors. Each of them plays at least two roles, some of which include parts of different genders and even supernatural characters – angels and ghosts. While it has been running around the world since 1991, it gained traction in 2017 when Andrew Garfield (Hacksaw Ridge, The Amazing Spider-Man) stepped into the leading role.
Since the Garfield production hit the stage, it has won a whole host of awards. In 2018, it was nominated for six Laurence Olivier Awards, of which it won two, and ten Tony Awards, of which it won three. But back in the 1990s, when it was first released, Kushner won the Pulitzer Prize for Drama and two Tony Awards. So even if you can't catch the Andrew Garfield version, this poignant and thought-provoking show is one to add to your list.
The Inheritance
Another globally lauded play about the AIDS crisis is Matthew Lopez's The Inheritance. Similarly to Angels in America, it is a two-part play (lasting a whopping seven hours in total) that follows a group of gay men living in New York. However, this show is based on E. M. Forster's Howards End. It is set one generation after the AIDS crisis, where the men must reckon with the community they have inherited after the AIDS crisis is over.
It first hit the London stage in 2018 and has since moved to Broadway in 2020. The original starred Vanessa Redgrave (Julia, Howards End, Agatha), for which she received a Laurence Olivier Award nomination. The production received eight nominations in total, winning four. In addition, the Broadway production has been nominated for ten Tony Awards, for which the winners will be announced this September.
Rent
Perhaps the most famous show that focuses on HIV and AIDS is Rent. It is based on the popular opera La Bohéme and follows a group of struggling artists, also set in 1980s New York. It is certainly the longest-running show that follows this theme. It premiered in New York in 1996 and grossed over $280 million in the following ten years. It has sparked numerous adaptations, including new versions for theatre, film and documentary. If you're a fan of musicals, this is the one to pick. It has an internationally loved soundtrack featuring songs that have gone down in musical theatre history, like 'Seasons of Love'. The song taught a whole generation that there are five hundred, twenty-five thousand, six hundred minutes in a year – and there are lots more where that came from.
Since its premiere 25 years ago, it has been performed by both professionals and amateurs worldwide. The original won four Tony Awards from ten nominations and was nominated for three Laurence Olivier Awards. Jonathan Larson, who wrote the original, also won a Pulitzer Prize for Drama for the work, and the soundtrack unsurprisingly bagged a Grammy nomination.
Avenue Q
Now, for something a little different – Avenue Q is a musical comedy that you'll love if you're looking for something a little more light-hearted. The show is a parody of the classic children's show Sesame Street but made for adults. Starring eleven puppets and only three actual humans, the story tackles everything from LGBT+ rights to racism, pornography, sex, and Scientology.
A far cry from its inspiration, the hilarious adult comedy has toured across the world and thankfully is one of those shows that will pop up in a city near you reasonably regularly. But, like so many shows with LGBT+ themes, it originated on Broadway. It scored six Tony Award nominations, three wins, and a nomination for a Grammy for its soundtrack. 
Everybody's Talking About Jamie
Everybody's Talking About Jamie has become a mainstay on the West End's Shaftesbury Avenue at the Apollo Theatre. Since then, it has toured and been reproduced worldwide, including in Seoul, Los Angeles, and various Australian cities. Based on a book and lyrics by Tom MacRae, it follows a 16-year-old drag queen overcoming discrimination, prejudice and bullying, loosely based on a true story.
Since opening in 2018, it has had several famous actors step into lead roles, including comedian and Celebrity Juice panellist Rufus Hound, RuPaul's Drag Race judge Michelle Visage, RuPaul's Drag Race winner Bianca Del Rio, and Steps singer Faye Tozer. The leading role is currently played by Layton Williams, who rose to West End stardom playing the lead in Billy Elliot when he was just 12-years-old. It has been nominated for five Laurence Olivier Awards and has recently been adapted for a film to be released on Amazon Prime Video in September this year. The film version will star Richard E. Grant, Sarah Lancashire and Layton Williams.
Hedwig and the Angry Inch
Hedwig and the Angry Inch has gone down in LGBT+ history, both for the film and the original musical. The musical follows a genderqueer German rock singer as she goes on tour with a far more successful singer and explores her relationship with her husband and backup singer, a Jewish drag queen. The musical opened off-Broadway in 1998 and was shortly followed by the film in 2001, which shot the show into superstardom. Despite having a relatively small budget, it has become a cult classic in the LGBT+ community. The film also stars John Cameron Mitchell, who wrote the original musical, in its leading role.
The musical has since toured from the West End to Israel, Germany, Brazil, and almost everywhere in between. While its original run was relatively unknown, it swept up accolades when it returned to Broadway in 2014 with Neil Patrick Harris in the leading role, including four Tony Awards wins. It may not be as critically acclaimed as some of its contemporaries. Still, it's definitely worth watching purely for its legendary status in the LGBT+ community.
La Cage aux Folles
La Cage aux Folles was a game-changer when it comes to LGBT+ theatre. When it premiered on Broadway in 1983, it was the first hit musical focused on a gay relationship. The central relationship is between the manager of a nightclub in St Tropez and the drag queen that stars in his club. The first act's finale song, 'I Am What I Am', has gone down in history as a gay anthem. There was also a film adaptation of the original play, which was nominated for three Academy Awards in 1980 and remains one of the most successful foreign films released in the US.
Since it opened, it has toured the US and the UK numerous times. Its various revivals have starred household names like Graham Norton, John Barrowman, Kelsey Grammer and Jeffrey Tambor, and the writer of the original book, Harvey Fierstein. The original production swept the Tony Awards, winning six out of nine nominations. Its revivals have since won two Tony Awards in 2005, three in 2010 and two Laurence Olivier Awards in its 2009 London run. 
The Colour Purple
The Colour Purple is a musical adaptation of the 1982 Alice Walker novel of the same name, which has been hugely influential in the US and the UK, remaining on many school curriculums even today. The musical follows the same plot as the book, focusing on the journey of an African-American woman struggling living in conservative Georgia in the early 20th century. The lead character Celie lives an extraordinarily difficult life and attempts to run away with a jazz singer who is also her husband's mistress.
Since its premiere in 2005, it's featured stars such as Hamilton's Renee Elise Goldsberry, Dream Girls' Jennifer Hudson, Orange is the New Black's Danielle Brooks and Harriet's Cynthia Erivo. The original Broadway production was nominated for ten Tony Awards and a Grammy Award for its soundtrack. The 2015 revival went on to win the same Grammy and two additional Tony Awards. A film adaptation is also in the works, with Steven Spielberg, Quincy Jones and Oprah Winfrey signed on to produce. It is due to be released in late 2023.
The Boys in the Band
Another play that broke ground in its day and remains incredibly popular is Mart Crowley's The Boys in the Band. Premiering in 1968, it follows a group of gay men at a birthday party in New York City and their relationships with one another. It was near-impossible to produce when it came out, as homosexuality was still a criminal offence in New York at that time. Despite only being booked for a small five-performance run, it ended up being a rousing success seen by the likes of Jackie Kennedy, Marlene Dietrich and Groucho Marx.
A 1970 film adaptation helped to cement the story in LGBT+ theatre history. It has recently seen renewed popularity since Ryan Murphy adapted it into a second feature film for Netflix, starring Jim Parsons, Zachary Quinto, and Charlie Carver. Many credited the original play with helping the LGBT+ community in New York gain confidence. Some critics even credited it with helping to inspire the Stonewall Riots of 1969. It features both hilarious quips and one-liners and a sobering look into life before the decriminalisation of homosexuality.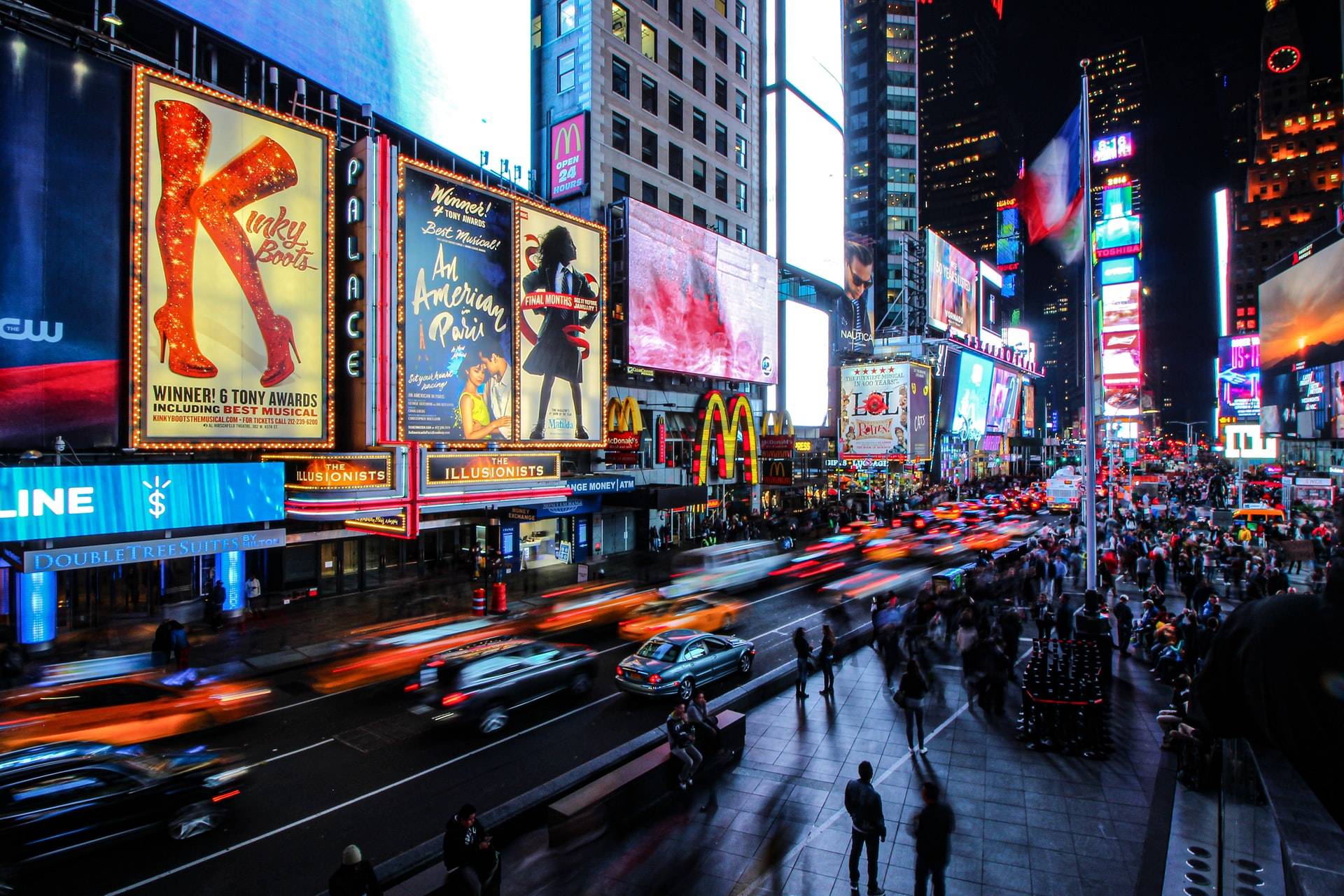 Image Credit: Sudan Ouyang at Unsplash